Sony has launched two new smartphones at
IFA 2016
: the
Sony Xperia XZ
and the
Sony Xperia X Compact
. What's the difference?
Earlier this year, in the throes of Mobile World Congress ecstasy, Sony launched an entirely new range of smartphones: the Xperia X series. That saw the launch of three different phones: the
Xperia X
,
Xperia XA
, and Xperia X Performance. Now there are another two phones, and heads in the office are starting to hurt. What the hell, Sony?
In any case, it's good news for die-hard Sony phones, people who subscribe to rampant and financially unforgiving phone upgrade schedules, and anyone still using a
Sony Xperia Z3
.
If you're stuck between the Sony Xperia XZ and the Sony Xperia X Compact, here's what you need to know.
Sony Xperia XZ vs Xperia X Compact: The similarities
The unfortunate thing about writing this article is that the phones share very few features, which means I've plenty of explaining to do. Thanks, Sony.
But seriously, this is an important point. Back in the halcyon days of the Xperia Z3, Sony's side-by-side launch of the
Xperia Z3 Compact
saw the phones sharing all specs save for screen diameter. The result? The Compact was a hit with fans who wanted a smaller phone, but didn't want to compromise on hardware.
That's all out the window now, though. Here are the specs that the phones share. All four of them:
32GB storage
3GB RAM
USB-C
Fingerprint scanner
Image: Sony Xperia X Compact
Sony Xperia XZ vs Xperia X Compact: Display
If the 'Compact' branding didn't clue you in, here's the skinny of it: the Xperia X Compact is smaller than the Xperia XZ.
The Sony Xperia XZ features a
5.2-inch display with a Full HD resolution
– that's 1,920 x 1,080 pixels and a 423ppi pixel density.
The Sony Xperia X Compact, meanwhile, makes use of a
4.6-inch display with a HD resolution
– that's 1,280 x 720 pixels and a far lower 319ppi pixel density.
Sony Xperia XZ vs Xperia X Compact: Design
Speaking to our Mobiles Editor Max Parker, I learned that his main takeaway is that the Sony Xperia X Compact is an "ugly phone", and less attractive than the Sony Xperia XZ. Here's an excerpt from his hands-on review:
"
I can't remember the last time I picked up a phone and genuinely thought it was a dummy version
of the real thing. The slimy, shiny plastic body feels like a sub-£150 laptop you'd get from Tesco, not from a brand with the design pedigree of Sony."
Unfortunately, the Sony Xperia XZ doesn't sound too beloved by Max either. Here's are two excerpts from the phone's hands-on review:
"It's big, chunky, and doesn't have a particularly attractive design – an area in which Sony usually impresses."
"I'd make a guess and say it's the biggest device with a 5.2-inch display on the market. It dwarfs the
Samsung Galaxy S7
and is more on-par with the fantastic
Samsung Galaxy Note 7
. Most of this size comes from a hefty bezel, which gives the phone a large chin and head."
Any other important bits? Well the Xperia XZ comes in 'Forest Blue', 'Mineral Black', and 'Platinum' colour options, while the Xperia X is available in 'Mist Blue', 'Universe Black', and 'White' – did the naming boffins give up here?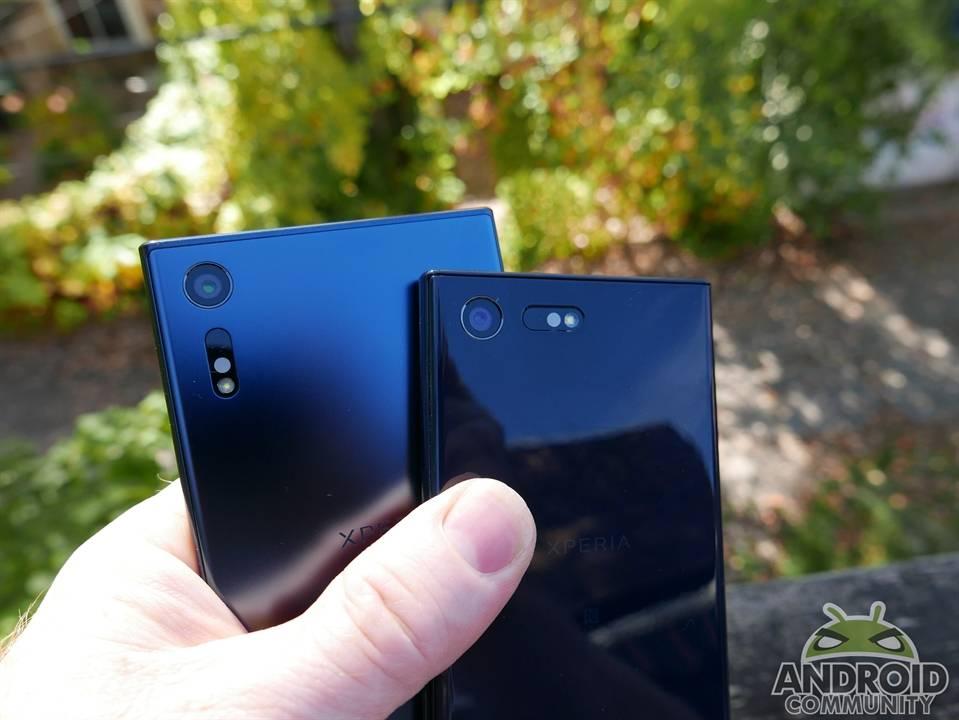 Oh, and the Sony Xperia XZ is rated IP68 for waterproofing and dustproofing, although Sony is shying away from the waterproof branding, and instead dubbing it 'water-resistant'. The Sony Xperia X Compact is not IP68-certified, so please don't drop it down the loo. In fact, best not to do that with the Xperia XZ either…
Sony Xperia XZ vs Xperia X Compact: Processor
Aside from the screen, the processor is probably the next most useful metric by which these two phones can be measured and compared.
The Sony Xperia XZ uses Qualcomm's latest and greatest system-on-a-chip, the mighty
Snapdragon 820
processor. It's a beefy chip with workhorse Adreno 530 graphics and a superfast Snapdragon X12 modem that's good for download speeds of up to 600Mbps (pending your cellular conn
ection, of course). Qualcomm has a newer Snapdragon 821 chip, but it's not out on any phones yet, which means the Sony Xperia XZ has the potential to rank alongside flagships like the Samsung Galaxy S7 in terms of processing heft.
Image: Sony Xperia XZ
The Sony Xperia X Compact, meanwhile, uses the
Snapdragon 650
chip. This is actually the Snapdragon 618, announced back in February 2015 and since renamed. It's a hexa-core chip with less powerful Adreno 510 graphics and a Snapdragon X8 modem – that's good for a theoretical maximum 300Mbps downlink.
Overall, the Sony Xperia XZ is likely to be significantly more powerful than its dinky sibling.
Related:
When is Black Friday?
Sony Xperia XZ vs Xperia X Compact: Camera
There's also an unfortunate disparity in camera credentials when comparing the two phones.
The Sony Xperia XZ's primary camera features a large
23-megapixel
IMX 300 image sensor, which is assisted by two further image sensors. The aperture is wide at f/2.0, but it won't put the hurt to the Samsung Galaxy S7's even wider aperture. Another advantage of the Xperia XZ camera is 5-axis stabilisation for reducing blur – it's the first phone to feature this tech. Other perks include 4K recording and a large 13-megapixel selfie camera.
By contrast, the Sony Xperia X Camera lacks 4K recording, and features a smaller 5-megapixel selfie camera. The good news is that the
23-megapixel
primary camera is retained, although you'll still miss out on the triple-imaging sensor and the laser-assisted autofocus.
Image: Sony Xperia XZ
Sony Xperia XZ vs Xperia X Compact: Battery
Unsurprisingly, the smaller Sony Xperia X Compact ships with a smaller battery than its bigger brother. The Sony Xperia XZ features a
2,900mAh
cell, while the Xperia X Compact uses a
2,700mAh
cell.
It's impossible to say which will translate into better battery life at this stage. That's because battery life is affected by so many factors, including operating system efficiency, processor efficiency, and the drain cause by varying screen resolutions.
Hold tight for the full review, folks.
Sony Xperia XZ vs Xperia X Compact: Price
We don't know what the pricing is yet, but we know that the Sony Xperia XZ will be more expensive. The Xperia XZ is Sony's flagship for the year, which means it's going to cost a fair whack more than any other Sony phone on the market right now.
Considering the Sony Xperia X Compact's comparatively dumbed-down specs, we'd expect to see at least £100 sliced off the price of the Xperia XZ, and hopefully even more.
Image: Sony Xperia X Compact
Sony Xperia XZ vs Xperia X Compact: Release date
The Sony Xperia XZ release date will be during the week beginning
October 3, 2016
. By contrast, the Sony Xperia X Compact release date is earlier, falling in the week commencing
September 5, 2016
.
Verdict
Overall, it's clear that the Sony Xperia XZ is the far superior phone, in a way unlike previous flagship-to-compact Sony pairings. The significant performance enhancements will make the Sony Xperia X Compact a tough sell, unless the price is a fair whack lower than the flagship handset.
We're not sure why Sony has opted to pare down the Sony Xperia X Compact so much, especially since the company already offers a healthy range of mid-range M-series devices. That said, Sony Mobile has been going through tough times financially thanks to its largely unimpressive offerings in recent years, so it's both unsurprising and unfortunate that the company has yet to develop a coherent mobile strategy.
We can't recommend a purchase until we've completed our full reviews and have all the pricing details, but at this stage, neither device looks like handset-of-the-year material.
Related:
Samsung Galaxy S8
Watch: Sony Xperia XR hands-on
What do you think of Sony's new Xperia X smartphones? Let us know in the comments.