As a free and open-source OS, Linux continues to spread its wings, amassing attention from new and experienced people alike.
Whether you are a beginner, an intermediate, or an advanced user, there is already a distribution waiting for you.
Check out some of these desktops and install the ones which suit your interests and skillsets.
Linux Distros for Beginners
Linux can seem overwhelming to people trying to wrap their heads around its various nuances. The first thing which confuses beginners is its dynamicity, variety along with the endless system options it offers.
Newcomers can benefit immensely from the following distributions.
1. Ubuntu
Ubuntu is a well-known Linux distribution
; you just can't go wrong with one of the most loved operating system platforms. It is ideal for users looking to dabble in Linux daily while learning its basics.
Technically, Ubuntu derives its roots from Debian, and it comes with Long Team Support (LTS) releases. You can install a stable OS version on your desktop without incurring unnecessary hurdles.
It ships with a GNOME desktop environment by default and has out-of-the-box apps like Firefox, LibreOffice, music players, and video players like Rhythmbox and Audacious pre-installed for use.
Download:
Ubuntu ISO Image
2. Linux Mint
Are you looking for a lightweight Linux distribution? If so, then check out Linux Mint. It has the best from Debian and Ubuntu and can provide a people-friendly experience for beginners and advanced users alike.
Since it's community-driven, you can pretty much have it do anything you want. Despite its Ubuntu-based roots, Mint does not come with a GNOME desktop. Instead, it comes equipped with its own native environments, like Xfce, Cinnamon, and MATE.
It's available only in 64-bit, as
Mint has dropped its support for 32-bit versions
. After installation, you can enjoy the look and feel, enriched with polished icons, new themes, a retouched taskbar, and high-resolution background images.
Download:
Linux Mint Ulyssa
3. Elementary OS
If you are an avid Windows fan, then you will love Elementary OS. This OS replicates Windows's look and feel, proving to be an ideal platform for designers and creative people. Its modern, sleek, and intuitive desktop design makes
Elementary OS an easy-to-use distro for beginners
.
The initial installation and layout are pretty lightweight, which focus on productivity and privacy. In the latest release, Elementary OS offers a multitasking view, Do Not Disturb, and Picture-in-Picture mode to ensure optimal productivity experience.
Like Ubuntu, it has been built over GNOME and comes equipped with its desktop environment, Pantheon.
Download:
Elementary OS
Linux Distros for Intermediate Users
Intermediate users, who possess a little knowledge of Linux distros, can find some excellent options. If you feel stuck between beginner and advanced level stages, consider these versions to enhance your Linux knowledge.
4. Solus
Solus offers an ideal desktop environment to developers, despite being a general-purpose Linux OS. It supports several advanced editors and integrated development versions such as Idea and GNOME Builders.
Developers can manage code in control systems like Git, GitKraken, Bazaar, and Git-Cola. Additionally, Solus supports different programming languages, including Go, Rust, PHP, Node.js, and Ruby.
Finally, you can download various developmental tools from its inbuilt repositories, to enhance your experience in the long-run.
Download:
Solus
5. OpenSUSE
OpenSUSE offers developers and system administrators usable open-source tools. It is a community-driven environment, which translates into giving OpenSUSE's users what they want.
What truly makes this platform great is its robustness and ability to directly install over other Linux desktop environments (KDE, MATE, GNOME, Cinnamon, amongst others).
Such features are usually missing from many of the other Open-Source native versions currently.
Download:
OpenSUSE
6. Fedora
Fedora is often mentioned as one of the most popular Linux distros, and for a good reason too. Like OpenSUSE, it is also an Open-Source OS that is free-to-use, reliable, and useful.
Fedora offers three different versions, which include Workstation, Server, and IoT. Advanced users have an option to customize the operating system as per their needs.
Related:
Best Linux Server Distributions
However, unlike some of the other distros, only a few limited pre-installed apps are available with this distribution.
Some pre-installed apps include:
Firefox (browser)
Evolution (email client)
Rhythmbox (media player)
GNOME Photo (photo editing app)
Cheese webcam viewer
Simple Scan
Boxes (for virtualizati
on)
Download additional software from GNOME Software Manager.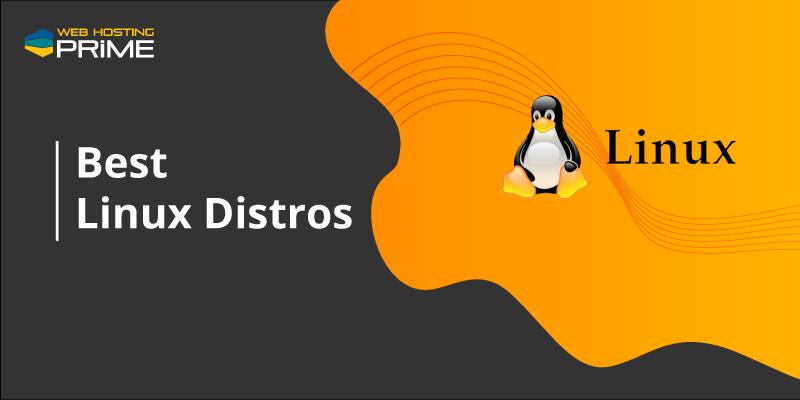 Download:
Fedora
7. Debian
Debian is one of the most stable and well-renowned operating systems offered by Linux. It forms a base for some other environments like Ubuntu, PureOS, SteamOS, Knoppix, Tails, and many more.
This distribution is known for its easy and smooth upgrades, as it offers its updates within a set release cycle. Users can use a live CD to install this operating system, which includes an easy-to-use Calamares installer.
The aforementioned installer is ideal for beginners; subsequently, advanced users can use full-featured installers on their systems.
Download:
Debian
Linux Distros for Advanced Users
As an advanced user, the first step is to understand your usage of the OS, your requirements, and your expectations in general. If you are someone who likes to get under the hood, then the following system software are ideal for you.
8. Arch Linux
Arch Linux is known for its bleeding-edge technology. Users get early-bird access to beta software and other software that is pending release on other systems. If being a beta user/tester is your calling, you will love working on Arch.
So, what sets this distro apart from hundreds of others offered by Linux? In simplicity, there is no Arch XP or Arch 8. Arch is updated on a rolling basis, so its users get the latest version every day.
With Arch, advanced users can indulge in a lot of different activities. The end-user needs to install everything manually via the terminal window, as the desktop version only offers a basic skeleton operating system at the time of installation.
Planning to give this a try? Rest assured, you will be downloading a secure, customizable, and lightweight desktop platform for your computer.
Download:
Arch Linux
9. Kali Linux
Kali Linux is not like some of its other counterparts and continues to market as a specialized operating system. It's developed to maintain Offensive Security. This means that both ethical and unethical hackers use this as a tool to get into people's restricted areas.
Kali offers a series of tools to its users, which include, but are not limited to the following:
Metasploit
SqlNinja
WireShark
Users performing penetration testing will find this operating system to be like a hand in a glove. On the contrary, it's best to steer away from Kali Linux for those who are on the lookout for a more generic, user-friendly OS.
Download:
Kali Linux
10. Gentoo
Gentoo puts even an advanced user's skills to the test, as it is known to be a problematic OS to install. It can take almost three days to install this distro; make sure you have sufficient time to spare. Amongst the list of distros, Gentoo continues to be one of the least sought-after distros, simply because of its difficulty and usage levels.
Post-installation, a user needs to set up programs for your desktop, sound, Wi-Fi, video codecs, and many more. Each program needs to be installed separately via the terminal window.
If you want to get deeper into how Linux works, this is the distro to turn to. Halfway through the installation, you would get an option to decide if you want to use the General Kernel or manually make changes to the Kernel's settings.
Initially, this OS might seem rather daunting; however, the best part is that it's well documented, and rather flexible.
Download:
Gentoo
Choosing the Right Distro
The initial choice of choosing the right distro is the most challenging part. However, depending on your skill sets, your interests, and your requirements, you can cross over this bridge and download the distribution which fits best.
As a precautionary note, do read the working documents before installing any distro on your system to avoid any unwanted conflicts later.
Share
Share
Tweet
Email
The Best Linux Operating Distros
The best Linux distros are hard to find. Unless you read our list of the best Linux operating systems for gaming, Raspberry Pi, and more.
Read Next
Related Topics
Linux
Ubuntu
Fedora
Linux Mint
Linux Elementary
Arch Linux
openSUSE
Gentoo
About The Author
Wini Bhalla
(30 Articles Published)
Wini is a Delhi based writer, having 2 years of writing experience. During her writing stints, she has been associated with digital marketing agencies and technical firms. She has written content related to programming languages, cloud technology, AWS, Machine Learning, and much more. In her free time, she likes to paint, spend time with her family and travel to the mountains, whenever possible.
More From Wini Bhalla
Subscribe to our newsletter
Join our newsletter for tech tips, reviews, free ebooks, and exclusive deals!
Click here to subscribe