The technology of old was so simple. You knew that you'd probably have a headphone jack for your smartphone and that your computer would likely have USB ports.
Now, however, you'll find a mixture of anything and everything. This is especially true with the MacBook Air and makes doing pre-purchasing research even more critical.
If you're interested in finding out about MacBook Air ports, and which models have which ports, you've come to the right place.
Which MacBooks Only Have USB-C Ports?
MacBook Air models from 2018 and later come with USB-C ports. The same is true for MacBook Pro models that Apple introduced from 2016 onwards, and all Apple laptops full-stop from 2018 to the present day—regardless of their model.
A selection of iMac devices also use this method for connecting USB cables with their computers.
Related:
USB-C vs. USB 3: What Is the Difference Between Them?
For a complete list of the devices that support USB-C and standard USB ports, head over to this article on the
Apple Support
website.
How to Use a USB on MacBooks With USB-C Ports
To use a regular USB with MacBook Air USB-C ports, you'll need to use an adapter. The same is true for MacBook Pro ports.
Once you have an adapter, you can plug the USB-C side into the computer port matching it. Meanwhile, the other end of the adapter should have a traditional USB port for you to connect other devices to.
Using a USB-C port on a MacBook is very similar to the older USB versions that you've likely become accustomed to. The only difference is that there is now a middle man with the adapter.
When buying an adapter, it's a good idea to buy either the official Apple version or one that is Apple-certified. While these are more expensive upfront, you'll also probably get more use out of them as they last longer. Plus, you'll save money in the long run—since you won't constantly need to replace them.
If all of these different Apple tech terms are confusing you, fear not; we've got you covered! Check out
our guide to Apple's Adapters and ports for Mac and iPhone
.
Does Any MacBook Air Have a USB Port?
Yes—despite Apple changing the ports for i
ts newer computers (as it has done with its iPhones), you can still get some functioning MacBooks with a traditional USB port.
If you buy a 2017 MacBook Air, you'll have access to a traditional USB port—also known as a USB-A or USB 3 port. The same is true for some of the older MacBook Pro models.
Related:
Understanding USB Cable Types and Which One to Use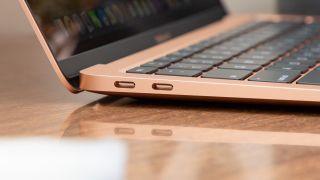 Keep in mind, though, that Apple slowly phases out new software updates for its older computers. Only MacBooks from 2016 onwards will get macOS Monterey in 2021; ditto for MacBook Airs and MacBook Pros from early 2015 and onward.
Having the latest macOS software is essential for performance optimization and keeping malware at bay. So, it would help if you kept this in mind when choosing a device.
Research Your MacBooks If You Want a USB Port
Apple's computers have advanced significantly in recent years, especially when it comes to the MacBook Air and MacBook Pro. At the same time, though, the USB-A port is still relevant. As such, you must know how your computer can support external devices with this kind of connector.
If you're not ready to buy an adapter and would rather use a MacBook Air with an older USB port, you've got plenty of options on the secondhand market. Some devices will soon stop getting software updates, though, so make sure you bear that in mind.
Share
Share
Tweet
Email
Which Mac File System Is Best for an External Drive?
Formatting a hard drive for use with your Mac? Here are your macOS file system options and how to pick the best one for you.
Read Next
Related Topics
Mac
USB
MacBook
MacBook Air
About The Author
Danny Maiorca
(112 Articles Published)
Danny is a freelance technology writer based in Copenhagen, Denmark, having moved there from his native Britain in 2020. He writes about a variety of topics, including social media and security. Outside of writing, he is a keen photographer.
More From Danny Maiorca
Subscribe to our newsletter
Join our newsletter for tech tips, reviews, free ebooks, and exclusive deals!
Click here to subscribe