NEWPORT NEWS — Genevieve Van Thuyne Jackson, 90, passed away after a brief illness on Tuesday, January 25, 2022 at her home surrounded by her family. She was born in Philadelphia, PA and graduated from Philadelphia General Hospital School of X-Ray Technology. She moved to the Peninsula in 1962. Genevieve was a member of Our Lady of Mt. Carmel Catholic Church for many years, a member of the Newport News Extension Homemakers Club and a leader for the Girl Scouts of America for many years.
She was preceded in death by her husband, L. Robert "Bob" Jackson; 2 grandchildren, Meghan Jackson and Liam Stemann; her sisters, Marie and Eileen Devery; and her brothers, Gerald and John Van Thuyne. She is survived by her 5 children, Barbara Tignor (Marvin) of Severna Park, MD, Mark Jackson (Laura) of Greenville, SC, Brian Jackson (Beth) of Wilmington, NC, Robert Jackson (Laura) of Lilburn, GA, and Genevieve Stemann (David) of Williamsburg; her brother, Adolph Van Thuyne (Marianne) of Southampton, PA; 14 grandchildren, John, Paul and David Tignor, Matthew and Caroline Jackson, William, James and David Jackson, Sean, Lauren, Victoria, and Angela Jackson, Audrey and Claire Stemann and her great-grandson, Patrick Tignor.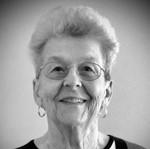 A private graveside service will be held at Peninsula Memorial Park. In lieu of flowers, donations may be made to Little Flower Catholic High School for Girls in Philadelphia, PA or the Virginia Breast Cancer Foundation. Arrangements by Weymouth Funeral Home.
Always be informed. Click here to get the latest news and information delivered to your inbox