SAIL's assistant director Sierra Jimenez and executive director Janine Allen assemble a tilt-in-space wheelchair to loan someone traveling by ferry (Corinne Smith/KHNS)
A regional nonprofit that offers resources for seniors and people with disabilities is working to assist people in Haines. Southeast Alaska Independent Living helps assist with finding housing and mental health services, and connects people with resources they need to get through another surge ofCOVID-19. KHNS' Corinne Smith checked in with SAIL's assistant director Sierra Jimenez for the latest efforts in Haines.
This interview has been edited for length and clarity.
KHNS: Thanks so much for joining us today, Sierra. Can you talk about what needs SAIL is seeing in the community now?
Sierra Jimenez: So SAIL serves seniors and people with disabilities. And the top of the list and has been for some time, even before the December 2nd disaster, is affordable housing. In our community, there is a serious lack of affordable housing here and we see it every single day, we're grappling with it. Really happy that the borough has the newly formed Housing (Working) Group, that's the one of the issues that we're tackling and SAIL is an active part of that group as well. But there's just so much that needs to be done and done right now… Another real issue or gap in services is in-person mental health services in Haines. Through COVID, a lot of things went to telehealth, and it just isn't a great option for everyone. I know SEARHC is trying hard to get clinicians in and more people in, but right now there's a real lack of mental health counseling in the community.
KHNS: How is SAIL helping to support that?
Jimenez: Yeah, that's a great question. So one of the really positive things that has come out of COVID, and then the December 2 natural disaster is it really caused the social services and faith based organizations to come together and collaborate. We've been working together, with a couple of different committees have been set up. And really talking about this and kind of putting our efforts together in this area. We've got lots of options, we continually are kind of just checking in trying to figure out where to go for a while, you know, look like Bartlett was going to also help provide mental health services and that is on hold, we've heard for a while that SEARHC is trying to bring back in-person and bring in more clinicians. And so other than advocating and continuing to just spread the word and say the word that there's a need here. That's about all we could do. And, we do help people who need mental health support. With using telehealth, one of the reasons that it just isn't a great option for everyone, especially for the folks we serve is because of technology and the lack of having the proper technology or the skill knowledge to be able to use it. We will help people here at SAIL that need, whether it's education, whether it's trying to hook them up with the right technology, they need step by step through the process, but it just again, it's not the same as in person.
KHNS: Right, so advocacy and continuing to talk about it and put pressure on for those in-person clinicians seems really important. And I also heard that SAIL is helping with issues that arise with winter conditions, like cost of fuel and snow shoveling?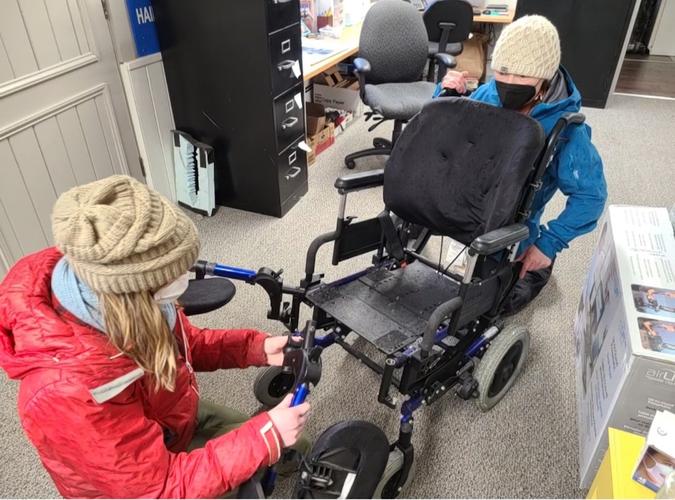 Jimenez: What I think we're really good at is connecting people to resources that are available to them. We don't ourselves do that, but depending on each person's individual situation, we'll work with them and find out what resources are available, whether that's locally. Or if there's any small grants, mini grants available that they might qualify for, for those services to meet their own needs. We can't promise that there are resources for everyone. But we will do our best to dig deep and see how we can help people meet the needs to get through winter.
KHNS: Haines is in the midst of a COVID surge now, so how is SAIL responding or kind of supporting residents at this time?
Jimenez: We are, and it's a subject we talk about daily. I mean, SAIL has a pretty strict mitigation plan. We strongly encourage all of our staff to be fully vaccinated, we wear masks in the office, we are open to the public, again, after a long time being closed. We talk to the folks that come in, encourage people to get vaccinated if they can help. Sometimes it's just they just don't know how to even make the phone call or to set up an appointment or it's transportation, we will help people any way they can and encourage folks to be vaccinated and wear masks and be safe. There's also still is the (Chilkat Valley) support chain going on in Haines and if somebody needs any sort of assistance, because of COVID, whether that's picking up prescriptions or grocery shopping or running errands, going to the post office, we can help people get connected with the support chain as well.
The Haines SAIL office is located on Union St and 5th Ave, across from the Salvation Army (Corinne Smith/KHNS)
KHNS: That's great, is there anything else you'd like to add today?
Jimenez:So in addition to the in person mental health services, affordable housing, an area that SAIL continues to advocate for and really want to be at the table for is emergency preparedness. Even before the December 2 weather event, this has been on SAIL's radar we're active in other communities around Southeast and planning, emergency planning just to have a voice for seniors and people with disabilities. Often that gets forgotten. And just what that would look like in a community, as you're making a plan, are you thinking about people who maybe can't hear the siren or people who need assistance in and out of their home? And just additional needs and and how to make sure that yeah, that people with disabilities and seniors are in that plan.
Also, general accessibility…A lot of times people think that that's just oh, somebody who uses a wheelchair or walker, something like that. But also as a community, we've got one of the largest and fastest aging population, there's people, lots of community members that are hard of hearing, or low vision, and there's so much we can do low cost, no cost as a community to think of everybody that just gets forgotten. And so if anybody ever has any questions, they're welcome to call SAIL. And we can brainstorm and come up with ideas. In this world of COVID and everybody's gone to Zoom, you know, like, there's absolutely no reason to have a Zoom meeting that doesn't have closed captions. It's a free service that Zoom offers. And it really helps people understand what's going on and make people feel included. It's just like one simple, free idea of how to be more accessible in our community that welcomes everybody."
KHNS: That's great. Yeah, I really appreciate that, these things that maybe people don't think of, but are pretty easy to include and to set up so that more people can feel included.
Jimenez: Yes, absolutely. And I have one last thought, is transportation. With the ferry being down again, there's a real struggle for accessible transportation and I so grateful that we've put in extra boats with the gold belt catamarans that are coming, but those are not accessible. And so if somebody needs is in a wheelchair, or just broke a leg and needs to get to Juneau for medical reasons, it's it's not easy, if not impossible to get somebody up and down those the ramp and the small boat harbor and onto those small boats. Where our mainland ferries are wheelchair accessible and kind of accessible to more people. So we're working through it, but it's also something I think people don't often think of and it is an issue for our community.
KHNS: That's right, thank you for that. Thank you for all your work, and thanks for joining us today.
Jimenez: Thank you.
For those in Haines in need of assistance during this COVID wave, the Chilkat Valley Support Chain is active now. Contact Caroline Hankins who will match you with a volunteer ready to help. See the sign up form here.