Digital transformation is disrupting every business in every industry. Finance is no exception, and with it comes the need for finance leaders to lead digital transformation initiatives at their companies. As this happens, CFOs are expected to take on new responsibilities that differ from how they have managed before.
This brings a new challenge and opportunities to get closer to their information to make decisions as finance plays a crucial role in helping businesses achieve their goals. This blog will help you understand that finance has been transformed into a digital department that helps organizations grow.
What Is Digital Finance Transformation?
Digital transformation is a phrase that has been thrown around a lot in recent years. Digital transformation centers on the idea that every company needs to change how it does business to stay competitive in today's digital world.
About 60% of companies that failed to adopt a digital strategy went out of business within ten years. However, companies that adopted a digital strategy were twice as likely to succeed.
Digital Finance Transformation is not a one-size-fits-all solution. It is a series of specific solutions that help companies transform their products and services, using digital channels to replace traditional distribution models, reduce costs and go to market faster.
Digital finance is enabled by the latest technologies, including artificial intelligence (AI), robotic process automation (RPA), and cognitive commerce, when machines learn to think like humans to make smarter business decisions.
Everything You Need To Know About The Digital Finance Transformation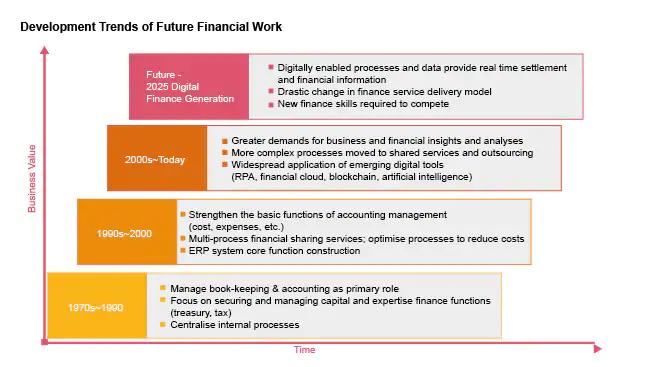 First, it's essential to understand the key technologies that change financial practices:
1. Blockchain
In the old days, businesses had to rely on an intermediary for basic financial transactions. With blockchain, companies have a decentralized system that enables them to exchange assets without third parties, making transactions faster, reducing s costs and errors, and increasing security.
In its most simple form, blockchain technology allows people who do not know each other to trust by creating an unchangeable record of transactions.
2. Real-time Data Visualization
The use of real-time data is not a new concept in financial services, but the way it is used is changing drastically and giving rise to a new type of "real-time data visualization."
Real-time data visualization has already become a critical component for financial institutions. With the help of real-time data visualization, businesses can process large volumes of data, detect patterns and visualize information that helps predict future outcomes and manage risk.
It also helps make decisions and take action based on the insight one gets from the data.
3. Robotic Process Automation
Robotic Process Automation (RPA) provides the ability to automate repetitive manual tasks, freeing up employees to work on higher-value activities and increasing productivity while lowering operating costs.
Digital financial transformation can't happen without RPA. Because tasks aren't automated until they're digitized, RPA is at the core of digital financial transformation initiatives, most often using some form of data capture technology.
Financial Transformation: Use Case
What if non-banks could issue payment cards in exchange for loyalty or loans for products sold on their website?
Banking as a Service (BaaS) is a significant opportunity for non-bank businesses to provide a better customer experience and multiple customer touch points.
According to the McKinsey Global Institute, 40% of financial activities (cash payments, revenue management, general accounting, and operations) can be automated. The other 17 percent can be largely automated.
From payment solutions for fintech companies to retail banking, BaaS is an example of positive digital finance transformation.
Future Of Digital Finance
We now live in a world where information can be transmitted around the globe at the speed of light, and financial transactions are instantaneous so that we can make decisions faster than ever before.
Technological advances have significantly impacted how we do business now, and digital finance is no exception. Digital finance is one of the fastest-growing sectors in the world.
While there are many benefits to implementing digital finance, it only works if you sincerely approach the process. It is about actively promoting the process.
However, business leaders must work together to create a shared space to gather ideas and apply the insights of other industries and practices to digital transformation success. Only then the transformation in finance will emerge naturally.
Digital Finance: Getting Started
It's clear that finance departments have been gradually embracing new technologies for years now. The ability to leverage technology has transformed the function in a big way and is poised to impact the digital future significantly.
CFOs need to create a vision for digital financial transformation with other leaders. They have a unique opportunity to shape their company's development while gaining valuable insight and experience. However, these insights and experiences can only be attained if finance managers take the first steps.
And other finance professionals can also leverage data more effectively and make more informed decisions. We hope you have found this article helpful and that it has given you some insight into digital transformation in the finance industry.