The world's attention remains, rightfully, focused on the goal of innovating its way to carbon neutrality – the pledges of the recent COP26 summit are just the most recent in decades of reforms. Accordingly, the past 20 years have seen dramatic changes in the patent landscape of clean technology.
Since 2017, there has been an average of 3.3% annual growth in low-carbon energy patents, rising faster than all other technology areas. Despite this, a 2020 IEA report concluded that the energy sector will only reach net-zero emissions if there is a significant and concerted global push to accelerate innovation. From a life sciences and chemistry perspective, some trends to keep an eye on in 2022 are: advancements in battery technology; sustained progress in hydrogen development; solar photovoltaic (PV) cells; and progress in recycling technology.
Battery boom
The compact but accessible chemical energy storage of fossil fuels is the property that has underpinned their dominance in the energy landscape over the past century. However, with the global shift towards renewables, providing effective ways of storing electrical energy is becoming increasingly important. As such, battery technology has been one of the frontrunners in patent activity growth during the past two decades. Between 2000-2018, the annual number of international patent families (IPFs) in all technologies increased by 213%, compared to a 704% rise in electricity storage related IPFs. Of this, 9/10 patents related to battery technologies.
Even with this remarkable growth in the sector, in recent years there have been additional efforts to encourage further development, the results of which we expect to start noticing in the next year or two. Notably, the BATT4EU partnership (between the European Commission and the BEPA) was announced in June 2021, aiming to boost European battery research and innovation with a budget of €925 million. The UK also continues to dedicate resources to this area – in March 2021, the government-backed Faraday Institution committed to a £22.6 million programme that aims to develop battery safety, including its reliability and sustainability, across a number of fields.
Li-ion batteries have emerged as the dominant system around which innovation is largely focused, accounting for 45% of patenting activity relating to battery cells in 2018. However, as their development matures (with an increasing proportion of IPFs being related to manufacturing or engineering), space is being created for emerging technologies. For instance, patenting activity in solid-state batteries, where solid electrolytes are used, has been increasing by an average of 25% annually since 2010 and we expect this trend to continue in 2022. The exploration of new electrode materials is also an area of steady growth, with plenty of potential for discoveries to supplant existing compositions – lithium cobalt oxide was the prevailing cathode material in 2005, which was then overtaken by lithium nickel cobalt manganese oxide by 2011, with lithium nickel cobalt aluminium now showing great promise. Clearly, there is still room for considerable progress in battery technology.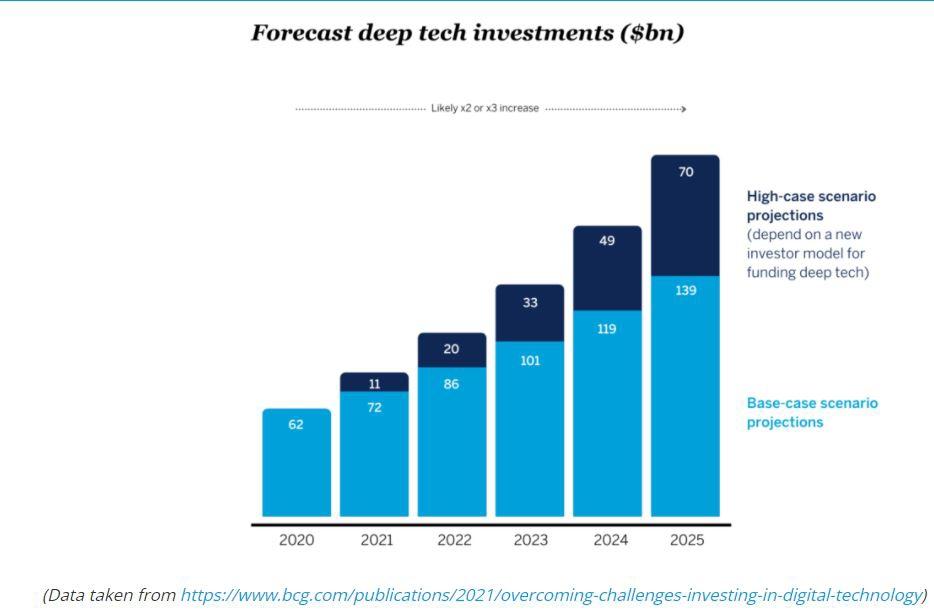 Sustained progress in hydrogen
Following the most significant surge in global activity in hydrogen-related technologies in the early 2000s, where the number of IPFs grew from 517 in 2000 to over 2,000 by 2008, patenting activity has sustained an upward trend, albeit showing slower growth than, for example, battery technology.
A significant roadblock in the wider utilisation of hydrogen is the slower growth of the end market for its applications, when compared to other clean energy sources such as solar or wind. However, it's becoming increasingly clear that wider incentivisation and adoption of hydrogen is needed, with many countries recently announcing national hydrogen strategies – for instance, the UK Hydrogen Strategy of August 2021 (including a £240m 'Net Zero Hydrogen Fund'), Germany's H2 Global programme (June 2021), and the wider framework of the EU's Hydrogen Strategy (July 2020).
Consequently, it seems likely that the growing investment in the hydrogen sector will lead not only to the scaling-up of existing technologies, but the accelerated development of new and emerging ones; anion exchange membrane systems show great promise in improving the efficiency of traditional alkaline cells and overcoming the platinum requirements of proton exchange systems, while solid-oxide electrolyser cells with ceramic electrolytes can utilise steam at impressive conversion efficiencies. The increasing focus on hydrogen in cleantech is reflected in the awarding of the 'Fix Our Climate' Earthshot Prize to Enapter – leading developers of AEM electrolyser technology – in late 2021.
Solar
Global solar PV generation increased by 156 TWh (23%) in 2020 to reach 821 TWh, representing the second-highest absolute generation growth of all renewables. This is due in no small part to the relatively early market consolidation of inorganic photovoltaic cell technology, and the associated fall in prices over the following years.
Despite these advances, significant progress still needs to be made to hit the numerous national and global targets for renewable energy. For example, to reach the EU's goal of achieving 40% renewables by 2030, it is estimated that solar capacity would need to increase from 137 GW (as of 2020) to around 660 GW. Fulfilling that requirement may involve, or even necessitate, further innovation in solar PV cell technology.
Such developments are potentially already in the pipeline: since 2010 there has been a steady rise in IPFs concerning organic PV cells, overtaking the number of other PV cell patents in 2015. Compared to the prevailing silicon-based inorganic PV cells, those that utilise light-absorbing organic small molecules/polymers have the potential to provide a much cheaper, more environmentally friendly and customisable alternative that could be produced on a massive scale. We expect to see more of this technology emerging in the coming year.
Recycling technology
Waste has long been an inevitable consequence of the economic and manufacturing processes that have become fundamental to most elements of modern life. However, the benefits of recovering waste materials are becoming harder to ignore; in addition to reducing emissions from extensive mining operations, slowing the depletion of natural resources and limiting ecotoxicity, it can alleviate costly fluctuations in price and/or supply of key materials. As examples of this approach, alternative materials and recyclable plastics have been in the spotlight for a while and are still an important focus for development, but progress in other areas has often been slower.
For instance, the ever-increasing demand for Li-ion batteries, with the progress of electrification, has been in stark contrast to recycling activity once they reach end-of-life stages: in 2019, the recycling rate for Li-ion batteries in the US was less than 5%. Considering the estimation that the electric cars sold in 2019 alone would result in 500,000 tonnes of battery pack waste, it's clear that considerable improvement is needed. There is therefore plenty of room for innovation in the coming years for scalable, efficient and clean battery recycling processes.
As mentioned earlier, plastics are another major focus of recycling technology. Quite often this means developing processes to enable effective separation and reuse of existing plastics, but the design of new polymers focused on inherent recyclability is an area of growing activity – IPFs in the field doubled between 2015 and 2019. Within this category are several promising avenues for further development, including vitrimers, which consist of a specific type of dynamic polymer network able to change its topology without fluctuations in overall connectivity.
More generally across areas related to recycling, patent filing activity has maintained its upward trend in recent years. With initiatives such as the EU's Circular Economy Action Plan, adopted in March 2020, it seems likely that patenting activity in recycling technologies will continue to grow solidly in the years to come.