Many students across Canberra will arrive to new and upgraded facilities when they return to school next week (31 January).
The public school upgrades are part of the ACT Government's commitment to make it so that every child has access to great, accessible and sustainable facilities and school infrastructure.
Here are some of the key projects being delivered across the region.
Gungahlin
Throsby School will open its doors to 185 students next week, becoming Canberra's 90th public school.
Sandy (pictured) is starting kindergarten at Throsby School and is excited to explore her new school.
"We're looking forward to this new school that will be filled with fun and excitement for Sandy," said Sam, Sandy's dad.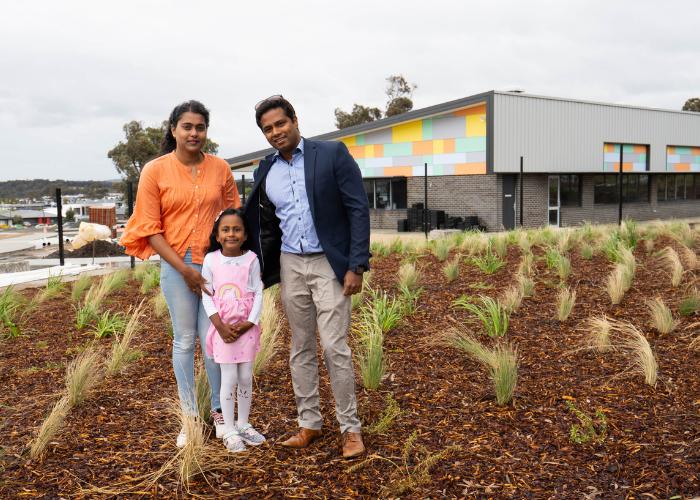 A further 450 kindergarten to year 6 student places will open up at Throsby School over the coming years. A preschool supporting 132 students will also open.
For local high school students, works continue on new learning spaces at Amaroo and Gold Creek schools.
Amaroo School upgrades include new food technology classrooms and a versatile performing arts space, while Gold Creek School students will soon have a new student service area and extended learning areas.
The new high school currently being built in Kenny is set to open in 2023.
Central
Campbell Primary School students (pictured) are excited to get back to school and see their nearly completed new buildings.
The new classrooms will support both group and independent learning, include a dedicated STEM classroom and connect to outdoor education and play areas.
The North Ainslie Primary School oval is also receiving an upgrade. Features will include an Indigenous yarning circle, native plants, multiple grassed areas for community sport and a sustainable water-harvesting system.
Woden, Weston Creek and Molonglo Valley
Canberra College students will return to their final years of school and a brand new facility that encourages them to focus on their dreams and ideas.
The Innovation Pavilion has a purpose-built classroom for science and engineering theory and another for students to present, collaborate and design.