by Perry Longinotti
When I looked at the Unibody MacBook a little while ago I liked almost everything about it. What I disliked most about the notebook was its sticker price. Apple decided to make the new MacBook more expensive than previous versions since it's built like a MacBook Pro but lacks some of the high-end features.
What I was hoping for from a new MacBook was a device that would be competitive with the $500 Windows notebooks crowding the shelves of most computer retailers. I don't mean something priced that low, but rather something closer to the average person's notebook budget. Most folks can live with the decent construction techniques of the iBook/MacBook design. I thought that was the whole point of having the MacBook and MacBook Pro line-ups; different strokes for different folks.
Perhaps Apple realized that they were under represented in the value segment, so they released an updated white plastic MacBook based on the Nvidia 9400M IGP chipset. A few key benefits of the new aluminum model are stripped away to bring this model down to Apple's traditional pricing for one of their starter notebooks $999.00.
Let's take a quick look at the specifications:
Intel Core 2 Duo P7350 2.0GHz CPU with 25 Watt TDP
NVIDIA GeForce 9400M IGP with shared memory
13″ WXGA High-Definition Display With 1280 x 800 Resolution
120GB SATA Hard Drive (5400 RPM)
2GB 667MHz DDR2 System Memory (dual channel mode)
Superdrive 8X DVD±R/RW with Double Layer Support
OS X 10.5
iWork 09 (pre-installed)
$999 MacBook (left) and $1,299 MacBook (right)
Build and Design
The first difference between the plastic MacBook and its Aluminum sibling is the elimination of aluminum and glass from the materials. This model has the white plastic polycarbonate we have known and loved through the years. Like its predecessors (of which I owned three generations) build quality is hit and miss. There are small gaps where panels come together, and the battery still sticks out a wee bit. Controlling tolerances with plastic construction is harder than when using metal.
In terms of creaks and noise while using it, this MacBook is almost silent. The flexy and fragile feeling plastic hinge on this MacBook is no match for the Aluminum model's hinge. Rather than a LCD latch mechanism all MacBooks use a magnetic latch.
In terms of size, nothing has changed. MacBooks are tough to beat if a small notebook is what you need. Dimensions are: height 1.08 inches (2.75 cm), width 12.78 inches (32.5 cm), depth 8.92 inches (22.7 cm), weight 5.0 pounds (2.27 kg). This is thicker and slightly heavier than the Aluminum MacBook. I had to check that twice because you would expect the Aluminum Body and Glass screen of the unibody MacBook to weigh more, not less.
Port layout on this MacBook is sparse; on the left side you get Kensington lock, microphone, headphone, one Firewire 400, two USB 2.0, mini-DVI and Ethernet ports. An integrated card reader would be a great addition in my opinion.
A tiny 60 Watt power adapter is included that adds about half a pound to the travel weight. MacBook uses Apple's Mag Safe connector. This innovation eliminates a few risks from notebooks; for example a sudden yank of the cord releases the magnetic connector before the notebook is pulled off the table or the socket breaks.
Screen
Another feature left off of this basic MacBook is an LED back light. As a result the screen on this notebook is nowhere near as bright as the one on my Aluminum MacBook. Its plastic screen coating is high gloss, but not as bright as the glass screen on the Aluminum MacBook.
For a screen this size, the MacBook's 1280 x 800 is a good resolution. Text size and the amount of usable screen real estate are decent. If you plan on doing any video or photo work an external monitor will be a good idea. Colors are washed out compared to the Aluminum MacBook. Viewing angles are good horizontally and poor vertically – this is what I have come to expect from consumer notebooks. Pressing fingers firmly against the back did not cause ripples in the LCD display. Above the display is the iSight webcam and what appears to be stereo microphones.
Keyboard and Touchpad
Apple's chiclet keyboard is starting to appear in many competitor's products for good reason, key travel is short and the action is quiet (although not as quiet as Aluminum MacBook's keyboard). The base reassuringly flex-free.
The next omission is the fancy touch pad from the new Aluminum MacBook. Rather than the new over-sized glass design without the customary single button, this model uses a more traditional wide aspect ratio single button pad. It is a little fussier to setup than the glass version, but it works great once you have dialed the settings to suit your preferences. While not quite as good as the new version, this is still one of the better input devices you'll find on a computer.
The omission of a glass trackpad means that you won't be using Apple's full multi touch capabilities. What you will be missing is the ability to rotate pictures, increase/decrease zoom and even change the screen magnification with the touch pad.
Technical Specs
The MacBook's CPU is common in this price range; Intel's Core 2 Duo P7350 CPU. This is a Penryn-3M medium voltage chip. What does this mean?
It's made using 45nm process making it smaller and cooler running
It has 3MB of level two cache versus 2MB in last year's value processors
Benefiting from the Penryn architectural advancements makes it about 15% faster than last year's Merom-based budget CPUs clock for clock
The latest front side bus speed of 1066MHz
Medium voltage means that it consumes less power, improving battery life
Miserly power consumption produces less heat, about 25% less than last year
MacBook uses NVIDIA's 9400M chipset (comparable to the desktop nForce 730i). This is a core logic chipset that incorporates integrated graphics (IGP). Before we get to the video system, let's look at the basic features. As a Centrino 2 alternative it features many of the same characteristics; faster Front Side Bus (FSB) speed of 1066MHz with DDR3 or DDR2. Unlike Intel, NVIDIA packages all on the chipset's features into a single small chip – it uses space more efficiently.
Apple offers the base MacBook with only 2GB of inexpensive and easy to find DDR2 667 RAM. Most competitors offer 4GB at this price so Apple's stinginess with RAM is a disappointment. Sure, you can get 4GB on sale for $30 but you shouldn't have to. Apple's operating system conserves memory pretty well and runs fine with only 2GB.
NVIDIA's GeForce 9400M video system is one of the faster integrated solutions along with the AMD RADEON Mobility 3200. However, this only gets it to the ankle level of powerful mobile GPUs. Apple and NVIDIA each claim that this solution is 5x as powerful as Intel's latest. Apple describes the chip as having 256MB of dedicated shared memory – very misleading. As an IGP it uses 256MB of system memory leaving you with approximately 1750MB free to run programs. In the Aluminum MacBook, fast DDR3 helped the 9400M post some very good benchmark scores. It will be interesting to see how slower DDR2 changes the equation.
Before we test whether it can handle recent games, here are some of the salient points:
55nm fabrication process makes it smaller and cooler running
16 parallel processing units
DirectX 10 and OpenGL 2.1 support – these are the newest graphics APIs
256MB of shared 128-bit DDR2 memory running at 667MHz
NVIDIA PureVideo HD Technology including HDCP HDTV output
PowerMizer 8.0 microcontroller reduces temps and power use
NVIDIA CUDA processor accelerates next-generation applications
NVIDIA PhysX-ready
How much of these GPU features are used in OS X 10.5 is debatable. I did not see much evidence of it.Video playback was good, but that could just be the CPU doing its job. Encoding in iMovie did not appear to be much faster than previous Core 2 Duo Macs – GPU acceleration makes a big difference, so if it was on we would know. Whether future software updates enable PureVideo acceleration, CUDA and PhysX remains to be seen. Hopefully you won't have to upgrade to 10.6 to see benefits.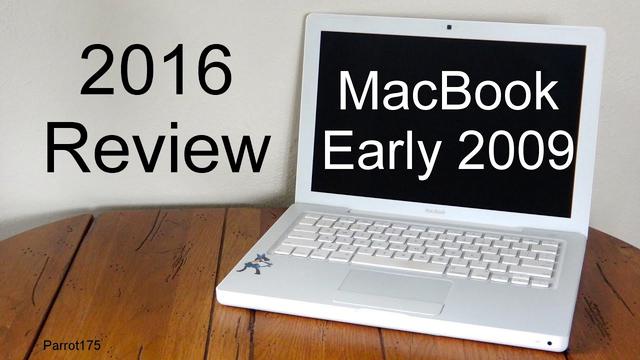 Onwards, to the storage system; FUJITSU MHZ2120BH 120GB HDD has a spindle speed of 5400rpm, 8MB buffer and SATA-II 3.0 Gb/s interface. This is an OK performer but the size is a disappointment. Even basic notebooks come with 320GB now.
Optical recording is robust and the Hitachi LG D
ata Storage GS22N SATA burner covers all but the most exotic formats (CD-R 24x, CD-RW 4x, DVD-R 8x, DVD-R DL 4x, DVD-RW 4x, DVD+R 8x, DVD+R DL 4x DVD+RW 4x, DVD-RAM 5x). This is a slot loading model so it spares you the wimpy cheap feel of normal tray loading notebook optical drives.
Networking is handled by Nvidia chipset and RealTek RTL8211. No 56k modem here (available separately as a USB dongle). Wireless networking capabilities are powered by Broadcom's Atheros BCM4322 802.11 ABGN Wi-Fi chip. RealTek also provides the HD Audio Codec along with autosensing jacks that seem to work a little better than those of the previous MacBook which were known to get stuck on digital out mode from time to time.
First Boot
OS X Leopard's into movie is simple yet slick and 4-6 screens of info is all that is need to get up and running. If you are already a registered Apple user, simply type in your credentials and the notebook will retrieve all your info from Apple. And finally, if you still have data on your old Mac, OS X can automatically transfer your accounts, personal data and settings to your new Mac. In short, you will be using your new Mac quickly.
I have always appreciated how much you can get done with a Mac without having to buy additional software. The lynchpin of this is iLife. Apple's iLife 09 suite is included with this MacBook the suite includes the latest versions of iPhoto, iMovie, iDVD, iWeb and Garageband. Notable features in this year's update to Apple productivity suite for your life include:
iPhoto: Face Detection, GPS meta data support, Facebook and Flickr integration
iMovie: Shake reduction
Garageband: Music lessons
There are even more new features in iLife 09, but these are the ones that jumped out at me.
Even the built in TextEdit utility gets the job done. I had no difficulty opening Office 2007 DOCX files and for basic word processing such as writing this article it is sufficient.
Restore and recovery software is included in the form of Time Machine. This software works great if you have an external USB or Firewire HDD or a network drive (although that is painfully slow on a wireless G network). Time Machine does not help you produce bootable install discs, but the standard OS X Installer reads Time Machine backups. Overall, like iLife this represents one less thing to buy compared to what comes bundled with Windows notebooks (although Acer has a pretty good backup disc maker).
Apple computers are bloatware free–even the trials of Office and iWork that used to be part of the standard install are gone. Lack of Mac viruses is pretty well-known and continues to be a strength of the platform.
Speaking of viruses, you can dual boot Windows if you like. The ability to do so is fully supported by Apple and is administered within OS X via Boot Camp. This is great if you already have an investment in some Windows software and lessens the cost of switching (you don't have to buy Mac versions of your apps right away).
OS X Performance
Apple's OS seems to do a better job handling memory than Vista and so the Apple policy of making computers with less than industry standard amounts of RAM does not hurt performance. Immediately after booting the amount of RAM used on this MacBook was 294MB. This figure is amazing considering that you are dealing with a state of the art operating system with all the bells and whistles.
This efficiency means that the MacBook never really struggles when in its native OS. Multitasking with the included applications is a pleasant experience that is lag free. The Xbench score is 119.01 which is 20-25% faster than the first generation MacBook Pro. This score is very close to that of my Aluminum Body MacBook which gets 123.49 with all the latest patches and updates from Apple.
Battery life is exceptional in OS X. Apple advertises five hours of use. With brightness set at 75% the MacBook scored 3:59 minutes surfing including lots of YouTube streaming. Watching movies it managed 3:19 minutes before shutting off. This was with a factory fresh battery – a few more charge/discharge cycles may condition the battery to last longer.
Heat is no longer an issue with the MacBook. I watched 3 hours of movies with notebook on my lap and the temp was fine. I took some temperature readings after running Spore for over an hour. Here they are:
As you can see, the new chipset seems to have delivered not only excellent performance but cool operation as well.
Vista Performance
If you install Vista you get a peppy little notebook that only struggles when there are lots of applications open due to its 2GB of RAM (a limiting factory in Vista). On first boot, without virus scan installed, 500MB of MacBook's memory is used, which rapid climbs up to just under 600 MB after a few minutes. This is almost double what is used for the arguably superior Mac OS X. Arguably? Who am I kidding, a few minutes in Vista will having you running back to OS X or XP. Hopefully you did not buy a MacBook to run Vista. I will only be testing the MacBook's Vista synthetic and gaming performance to give us some idea of raw performance.
When you install Vista using Boot Camp you can use the Apple recovery disk to install the required Windows drivers and hot key utility. The default driver package includes the NVIDIA 177.53 driver.
First the synthetic results – the MacBook scores 4423 in PCMark05 which is good. It scores 1733 points in 3DMark06 which is about 15% slower than the Aluminum MacBook which uses faster RAM. This puts it in the same league as Nvidia 9300M and AMD Radeon 3430/50 discrete GPUs. If gaming is important to you make sure you weigh your options carefully before buying, you will only be able to do some light 3D gaming on this notebook with details turned all the way down.
To illustrate this point I tested
Fallout 3
on this MacBook because it can scale down to pretty low settings (in this case 1280 x 800 and LOW settings). This makes it look like an older title but the game play is mostly unchanged. It chugs when you get into large firefights, but remains playable with an average score of 31.7FPS, low of 17FPS and high of 64FPS. Other well optimized games such as
Call of Duty 4
and
GRID
should run OK on the MacBook if you can live with visual quality sacrifices.
Overall, the results place this less expensive MacBook very close to its more expensive sibling in terms of performance.
Conclusion
With this iteration of the plastic MacBook design, I think Apple has finally got this design right. Most of the kinks are ironed out. Heat is not a major factor anymore. Construction, although not perfect, is better than the first generation MacBooks.
Performance is good, but there are speedier notebooks on the market from brands like HP, Acer and Dell at about the same price. None of them have what are the MacBook's best features; OS X and iLife. In my mind that is worth about a $250 premium over Windows based PCs. Design is tougher to quantify, but let's be really generous and value that at $100. Even with the premium, the hardware specifications are a little weak (by $650 notebook standards) and that is something I wish Apple would address.
Even as someone who has bought every generation of the iBook and MacBook (so clearly I like them), I feel that these are over-priced and under-spec'd compared to what you find in stores from Apple's rivals. I am already paying a premium for the design, OS and apps (about $300-$350). What do I get in exchange for the low 2GB RAM and small 120 GB HDD? How much would it cost Apple to bump the RAM up to 4GB and the HDD to 320GB?
You could argue that the average budget for a new computer is zero these days and that a couple of hundred dollars difference has no effect. My preference would be to see $999 Aluminum MacBooks and $799 plastic MacBooks. At those prices I think almost anyone could rationalize the premium.
I say this because I really would like to see more people using Macs, I've always considered them to be the VW of computers. Anyone who spends any amount of time on a computer deserves to own a Mac at least once and more accessible pricing would certainly help.
Pros:
Priced like a MacBook should be (compared to Unibody)
Runs cool
Mature design, most of the kinks are gone
Great battery life
NVIDIA 9400M
FireWire!
Cons:
Specs are still too low for my liking (RAM and especially HDD)