Chief Executive Sundar Pichai told employees in a note Wednesday that the Mountain View, Calif.-based company would begin requiring anyone on its U.S. campuses to be vaccinated in the coming weeks. He said Google would expand that requirement to other countries in future months.
Mr. Pichai said that he hoped that the vaccination requirement would give its workforce of more than 135,000 employees across more than a dozen states and 50 countries "greater peace of mind as offices open."
"Getting vaccinated is one of the most important ways to keep ourselves and our communities healthy in the months ahead," he said.
He added that accommodations would be made for people who can't be vaccinated for medical or other protected reasons. Those whose reasons are political will be asked to continue to work from home and speak with human resources regarding their options.
Facebook said employees coming to work on any of its U.S. campuses would need to be vaccinated, though how the policy is implemented will depend on local regulations. In a statement, Lori Goler,a vice president of people at Facebook, said the company has a process for working with those who choose not to receive a vaccine for medical or other reasons. She added that the company will "be evaluating our approach in other regions as the situation evolves."
Google and Facebook are among the largest private companies in the U.S. to introduce a vaccination requirement for their workforces. The mandates come on the heels of similar rules introduced in recent days by federal and local governments eager to boost vaccination rates, which have stalled across the country at 49%.
Other companies have said they would reopen offices initially only to vaccinated employees. The technology giant Salesforce.com Inc.
in April said vaccinated employees who voluntarily disclosed their status would be allowed back in offices in places such as San Francisco in groups of about 100 people at a time.

Also on Wednesday, Netflix Inc.told its producers it would require everyone working in close contact with actors on U.S. productions to be vaccinated, a company spokesman confirmed.
Workplace vaccine mandates have been rare so far because such requirements can prompt employee lawsuits and trigger confrontations with noncompliant staff, employment attorneys say. They also risk companies' losing out on talent in a tight labor market.
At Gulf Coast Bank & Trust, a roughly 775-person bank based in Louisiana, executives discussed imposing a vaccine mandate but decided against it, feeling that wasn't the role of a private business, said CEO Guy T. Williams.
Instead, Mr. Williams has strongly encouraged vaccinations for all workers, including by appealing to their political inclinations. If employees identify as Republicans, he said, he would emphasize the shots' development under the Trump administration. Among Democrats, Mr. Williams points to President Biden's efforts to get more Americans vaccinated.
"Our guidelines are pretty simple: Guys, ladies, get a vaccination," he said. "It doesn't matter which side you're on."
But as for mandating vaccines as a condition of employment, he said, "It doesn't feel right."
Unvaccinated Americans represent the majority of patients driving up Covid-19 hospitalizations in the U.S. as the Delta variant spreads. The Centers for Disease Control and Prevention recommended Tuesday that vaccinated people resume wearing masks in some indoor spaces, changing its May guidance because more than 60% of counties are reporting high levels of viral transmission. Morgan Stanley was among the first to require employees be vaccinated before returning to offices. Other banks including Goldman Sachs Group Inc.Co. have asked or required that employees disclose their vaccination status. Companies outside the banking industry have adopted other measures to encourage inoculation, such as allowing workers with proof of vaccination to forgo masks indoors.
Various employers say the CDC's updated guidance injects more uncertainty and confusion into corporate reopening plans, with some executives now rethinking return-to-office timelines.
On Wednesday, San Francisco ride-hailing company Lyft Inc. pushed back its planned office reopening to February 2022 from September, according to an internal memo from CEO Logan Green that was viewed by The Wall Street Journal. Mr. Green attributed the change to rising Covid-19 cases and the CDC's new guidance this week on indoor masking. Also Wednesday, said it would close its offices in New York and San Francisco and pause future office reopenings, effective immediately.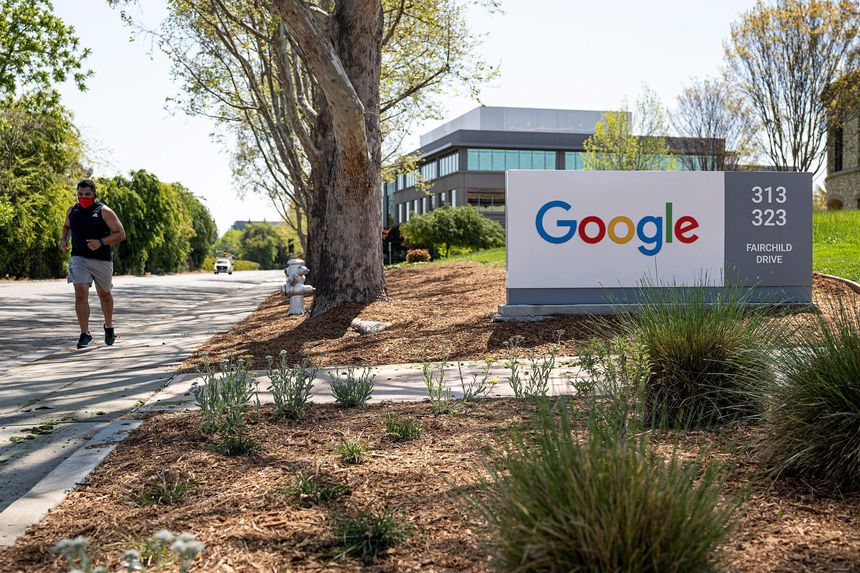 Those moves followed Apple Inc.s decision last week to delay its return to the office by at least a month. On Wednesday, Apple also said it would require employees in its corporate offices and workers in its stores to wear masks even if they have been vaccinated.
The San Francisco Bay area, where all three tech giants are based, has vaccination rates exceeding the state and national averages but still has only about 60% of people vaccinated in many of its counties.
"We recognize that many Googlers are seeing spikes in their communities caused by the Delta variant and are concerned about returning to the office," Mr. Pichai said Wednesday. "This extension will allow us time to ramp back into work while providing flexibility for those who need it."
Mr. Pichai said that Google would monitor Covid-19 cases and update staff about its return-to-work plans by mid-September or earlier. met with her colleagues Wednesday to discuss whether the marketing-and-sales platform provider should require masks at its headquarters in Cambridge, Mass., where a small percentage of employees have returned, or adjust its return timelines. HubSpot is considering its options and seeking input from local governments where it operates but hasn't made changes yet, Ms. Burke said.
The rising case counts and new masking guidelines make clear that "this pandemic is far from over," she said. "Any assurance that we were feeling that we were on the other side of this, or that we were starting to see a light at the end of the tunnel, I think is very much gone."
Until a few weeks ago, said she was optimistic about return-to-office dates after Labor Day in New York. The CEO of the Partnership for New York City—a nonprofit representing business leaders, with members including large companies such as Co.—said the Delta variant and concerns among parents of unvaccinated children have halted momentum. Ms. Wylde said many employers are now in "wait-and-see mode" about returning, and she expects more companies to make decisions about return timelines in August.
"Unless there's a universal vaccine mandate, and unless we've got some assurance that kids will be able to be vaccinated and be back in school in the fall, I think it's going to be very difficult to meet even the relatively conservative targets that employers had for getting people back to the office," Ms. Wylde said.