top story
Central numbers increase while Dallas numbers dip
Itemizer-Observer
Polk County's two largest public high schools took different paths in their graduation rates, according to numbers released by the state last week.
Central High School bucked the statewide, slight downward trend, seeing its graduation rate improve in 2020-21 to 85.41%, up from 83.62% in 2019-20. That equates to 199 graduates out of 233 total students. Statewide, Oregon's four-year graduation rate involving 37,320 total students decreased in 2020-21 to 80.6% from 82.6% in 2019-20.
Following the statewide trend, Dallas School District's four-year graduation rate fell from 85.19% in the 2020-21 school year to 81.33 last year. The district graduated 183 students of the 225 of the cohort that began high school in 2010-11. Additionally, the district was able to bring its completer rate to 86.7%.
Principal Donna Servignat said she was extremely proud of CHS's class of 2021, touting their success despite losing out on many of the normal activities of a traditional high school experience through the spring of their junior year and their senior year.
"They faced terrific adversity and were able to stay engaged in order to earn the credits they needed in order to walk across the finish line and earn their diplomas. They navigated constantly changing schedules, new online platforms, two grading system adjustments, and shifting COVID protocols," Servignat said.
Superintendent Jennifer Kubista said in addition to the administration's implementation of its High School Success Plan, there were four key factors that contributed to CSD's success.
• Summer school credit recovery that CHS has held for the last two years;
• The addition of graduation coaches who connect with students who may be behind in credits or struggling, and work with them to build plans to reach their graduation goal;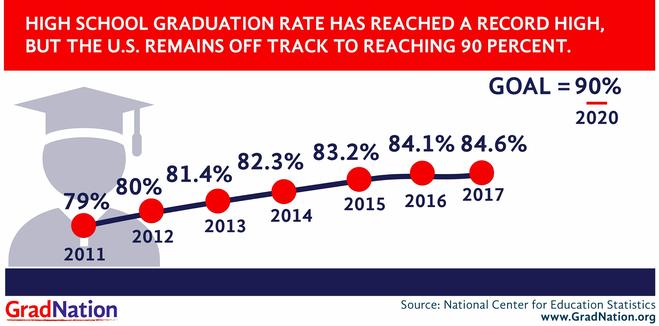 • The implementation of a college and career counselor who continues to show students how important a diploma is to their future, whether that is a college or career pathway; and
• The continued development and implementation of CTE (career and technical education) pathways.
Meanwhile, six more students completed graduation requirements in the Dallas School District, to bring the district's 2021-22 completer rate to 84%.
Before this year's dip, the district had a three-year trend of increasing rates.
"Disruptions from COVID had an effect. Prior to 2021, we experienced a three-year graduation growth trend which tells me we are on the right track," said Superintendent Andy Bellando. "We were challenged to meet the technology requirements for distance learning at the beginning of the pandemic, which effected our ability to adequately support students in a short amount of time."
Bellando said since then, the district has been able to provide all students with devices.
"All teachers and assistants now have laptops, improved technology equipment and platforms to better support student needs, whether in person or not," Bellando said. "The vision of our technology and innovation department is fully aligned with our district vision, in support of the individual needs of each student. This will make a significant difference moving forward."
Bellando said that the district makes significant effort to help students who do not graduate on time earn the credits needed to receive a diploma.
"Our five-year completer rates are just as important as our four-year graduation rates," Bellando said. "Our 2021 five-year completer rate remains strong at 91%, the latest in an improving four-year trend. I am proud of our staff for making this happen."
He said last summer, the district created a K-12 summer program that included credit recovery options for high school students.
"Many seniors who did not meet graduation requirements by last June earned sufficient credits over the summer to qualify," Bellando said. "They will be reflected in our five-year graduation cohort rate next year."
The district also uses Graduation Alliance, a service that offers assistance to former students who have not finished high school. Bellando added that Dallas has hired a high school graduation coach and created Dallas Virtual Academy to provide students with another option for completing their education.
"I am proud of these and many other efforts which will result in a return to improving graduation rates," Bellando said.
While Central's administration is happy with current numbers, Kubista said there is still work to be done.
"We noticed that many of our student focal groups have increased graduation rates, while others have not. Our goal is for every student in Central School District to have the skills and character to achieve and be successful in school, career, college, and community," Kubista said. "Continued areas of growth include students experiencing disabilities and emergent bilinguals. However, our goal is for all focal groups to continue to improve."
Graduation Rates Breakdown:
State
2020-21 – 80.63%
2019-20 – 82.63%
Polk County
2020-21 – 83.59%
2019-20 – 84.95%
Central High School
2020-21 – 85.41%
2019-20 – 83.62%
Dallas High School
2020-21 – 81.33%
2019-20 – 85.19%
Falls City High School
2020-21 – 76%
2019-20 – 81.82
More from this section
Former NFL player: Tom gets to call his shots
FDA Gives Moderna COVID Vaccine Full Approval
Could Everyday Plastics Help Make You Fat?
Tags
Recommended for you
Post a comment as
Emoticons
Your comment has been submitted.
Report
Reported
There was a problem reporting this.
Watch this discussion.Stop watching this discussion.
(0) comments
Welcome to the discussion.
Log In
Keep it Clean. Please avoid obscene, vulgar, lewd,racist or sexually-oriented language.PLEASE TURN OFF YOUR CAPS LOCK.Don't Threaten. Threats of harming anotherperson will not be tolerated.Be Truthful. Don't knowingly lie about anyoneor anything.Be Nice. No racism, sexism or any sort of -ismthat is degrading to another person.Be Proactive. Use the 'Report' link oneach comment to let us know of abusive posts.Share with Us. We'd love to hear eyewitnessaccounts, the history behind an article.
Post a comment Watch this discussion.Stop watching this discussion.
Most Popular
Articles
Images
Videos
Commented
Sorry, there are no recent results for popular commented articles.
Latest News