According to the latest research by SkyQuest Technology, the Cyber Security Market was valued at USD 197,300 Million in 2020, and it is expected to reach USD 390,000 Million by 2027, with a CAGR of 10.10% during the forecast period of 2021 – 2027. The research provides up-to-date analysis of the current market landscape, latest trends, drivers, and overall market environment.
Information disclosure, theft, or damage to computer systems and networks' equipment, software, or digital information, as well as disruptions or misinterpretation of the services, are all instances of cybersecurity. The proliferation of new cyberattacks is accountable for the market's growth. In recent years, targeted attacks have become increasingly prevalent, entering organizations' communications infrastructure while posting anonymously. The primary purpose of targeted assaults is to access enterprises or organizations networks and collect confidential material. Due to this, organizations suffer from operation disruptions, intellectual property loss, economic damage, and the loss of critical and confidential client information. Targeted cyber-attacks have ramifications not just for the companies targeted, but also for their domestic and foreign clients. Attackers steal PII such as names, contact information, locations, and account numbers. The cyber security industry is being driven by the emergence of online e-commerce portals and the introduction of fundamental techniques such as the internet of things (IoT), artificial intelligence (AI), cloud security, and others. The emergence of internet security products based on artificial intelligence (AI) platforms is a priority for key industry players. In the foreseeable future, industries, banking, financial sectors, and insurance, as well as healthcare, are likely to fuel market expansion.
Get Sample Copy Of This Report: https://skyquestt.com/sample-request/cyber-security-market
Read market research report, " Global Cyber Security Market segmented By Type (Network Security, Application Security, Mobile Security, Wireless Security, Cloud Security, and Others), By Solution (Disaster Recovery, Anti-malware And Anti-virus, Mobile Device Management, Firewalls, Authentication and Authorization, Intrusion Detection And Protection Systems (ID/IP Systems), Network Access Control, Data Loss Prevention, Encryption, DDOS Mitigation, Security Information And Event Management (SIEM), Whitelisting, and Other), By Industry Vertical (Government, Defense, Aerospace, Banking and Financial Services Industries, Travel and Transportation, Telecommunication, Healthcare, Retail, Manufacturing, and Others), By Services (Consulting Services, Network Vulnerability Assessment, Managed Security Services, Design and Integration, and Others) and By Region, And Segment Forecasts, 2021 – 2027" by SkyQuest
The cloud computing architecture is widely utilized because of its strong and flexible infrastructure. Many companies are adopting cloud base solutions to ease data storage and allow remote servers accessible through the internet, giving them access to almost uninterrupted computational capabilities. The rapid growth of cloud-based approach for businesses to manage all of their apps since it provides important analytics.
The majority of start-up and small enterprises have lacked the financial resources or IT security knowledge to install or upgraded cybersecurity solutions to defend their networks and IT infrastructures from cybercrime. Some small and medium-sized organizations may find it difficult to embrace the cybersecurity strategy due to a lack of cash investment. Emerging start-ups in developing countries throughout MEA, Latin America, and APAC generally struggle to secure money and sufficient resources to adopt cybersecurity solutions. These companies' capital is mostly used to defend mission-critical activities, leaving little or no money for the development of innovative cybersecurity solutions.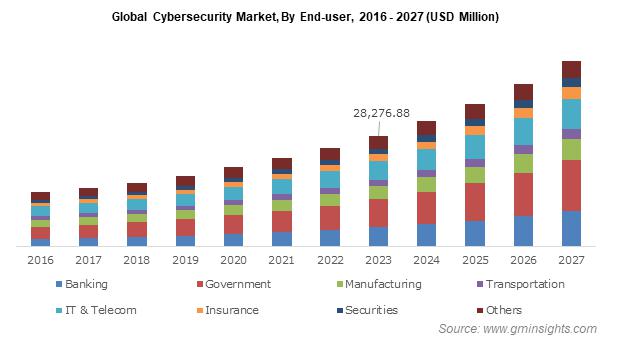 Buy Now This Report : https://skyquestt.com/buy-now/cyber-security-market
The top players in the Cyber security market are AVG Technologies, Check Point Software Technologies Ltd., Cisco Systems Inc., Cyber Ark Software Ltd., Dell Technologies Inc., FireEye Inc. Fortinet, IBM Corporation, Imperva, Intel Security etc. New players are also entering the segment thus increasing its market penetration and therefore demand growing exponentially.
The report published by SkyQuest Technology Consulting provides in-depth qualitative insights, historical data, and verifiable projections about market size. The projections featured in the report have been derived using proven research methodologies and assumptions.
Report Findings
What does this Report Deliver?
Speak With Our Analyst : https://skyquestt.com/speak-with-analyst/cyber-security-market
SkyQuest has segmented Global Cyber Security Market based on Type, Solution, Industry, Services and Region:
Global Cyber Security Market By Solutions (Revenue, USD Million, 2020 – 2027)
Global Cyber Security Market By Industry (Revenue, USD Million, 2020 – 2027)
Global Cyber Security Market By Services (Revenue, USD Million, 2020 – 2027)
Global Cyber Security Market By Region (Revenue, USD Million, 2020 – 2027)
Europe
Asia Pacific
Central & South America
Middle East & Africa
List of Key Players of Cyber Security Market
About Us-
SkyQuest Technology Group is a Global Market Intelligence, Innovation Management & Commercialization organization that connects innovation to new markets, networks & collaborators for achieving Sustainable Development Goals.
Contact Us-
SkyQuest Technology Consulting Pvt. Ltd.
1 Apache Way,
Westford,
Massachusetts 01886
USA (+1) 617-230-0741
Email- [email protected]
Website: https://www.skyquestt.com/